The #Mompact Blog Hop has come to an end. The WINNER is Christyn McKenna. Thanks to everyone who entered. Please Visit again, Read some posts and try your Luck at other Giveaways! - Gena
I am so excited to be taking part in the
Mompact Blog Hop
with
120 other blogs.
Isn't that amazing? Well, it gets better. This fabulous blog hop consists of 150 prizes and a GRAND PRIZE that will be given away by
Mompact
. Even better is that each product was invented by a Mompreneur:
MOMS SUPPORTING MOMS
This blog hop will begin September 12th at 12:01 a.m. and will end on Sept. 17th at midnight!
YOU DON'T WANT TO MISS THIS!

Invented (patent pending) by Ritzy Bitzy's founder, Monica Jones, BUNCHEES Baby Bottle Bibs are a new, convenient and innovative way to keep your baby comfy and dry during bottle feedings. Having given birth to two messy yet adorable eaters, Monica decided to take action on her big idea and the Baby Bottle Bibs were born. Way better than the standard bib, they were created to absorb dribble that trickles out of babies' mouths while they are feeding from a bottle. They are made with ultra soft and highly absorbent plush microfiber and the absorbent collar not only holds it in place, it soaks up bottle leaks too! The Baby Bottle Bibs™ fit on baby bottles of all brands and shapes, they can even be used to keep the mess away when your baby learns how to drink from sippy cups. Their compact size allows for easy transport--just toss them in your diaper bag and go! Most importantly, they keep you and your baby dry!
Hey, you're not done yet. You are just getting started! Head on over to Eco Baby Mama Drama and check out her review of
Zatswho.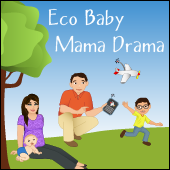 This blog post is part of the Mompact Blog Hop. Make sure you visit all 120 blogs and Enter to Win. You can find the entire list of giveaways at
Mompact